Home Worship
"A caring Christian Family Where We Grow Together"
Let your Light Shine - Matthew 5 v 16
This page includes a number of age specific resources that can be used at home during the Covid-19 outbreak.
W/C 12/7/20
Introduction
Stories are a really important part of our lives: they may be how we settle down ready to sleep; how we pass on memories; or the way we share our faith.
Jesus often uses parables – a story with a hidden meaning – to share a key message and this week we think about how and why he might have done this.
Gather
Use this prayer as you begin your time of worship together. Nominate a leader or all join in together.
Lord Jesus, as we gather today,
may we have eyes to see
and ears to hear
what you are saying to us.
Make us ready to learn
from your stories.
Amen.
Read
Share the Bible story using the idea below to help you explore it together.
Bible story
Open the Bible at Matthew 13.1-9,18-23: Jesus tells simple stories, called parables, to help people understand an important message.

Words and pictures
Use this poem, substituting these words for pictures: farmer, seed, birds, thorns (see template). Then tell the story using the pictures.
A farmer went, his seed to sow, he did not know if they would grow.
Some seed fell on stony ground, some the hungry birds soon found.
Some fell among the thorns so tall, they stood no chance to grow at all!
But some seed fell on fertile ground, and soon the crops grew all around.
[[Feature]]
Activities
You may wish to use these additional resources to worship together and/or the activity sheets for children.
Preparation
Create seed trays to represent the four different environments for the Word:
sand and a piece of old lino as a path;

gravel or stones;

weeds and thistles;

good soil or compost.
Then do one or both of the activities below.
Cartoon strip
Create a visual summary of the parable
You will need: storyboard (template), pencils, crayons/felt tips.
Recap the four different places that seed landed in the parable using the seed trays you have prepared.
Invite everyone to draw four pictures on the storyboard template to retell the story as a cartoon strip.
Those who are able could write captions and/or speech bubbles to retell the story from the seeds' point of view. You may need to act as a scribe for the captions that younger children suggest.
Where the seed falls
Read Matthew 13.3b-9 using the trays. Read verses 18 to 23 and add the following cards to each tray:
the evil one;

trouble;

cares of the world;

a healthy plant.
W/C 5/7/20
Introduction
Jesus calls us in this passage to come to him and learn from him. Now more than ever we may feel the need to be self-sufficient and 'keep going'. Take time as you worship together today to give over anxieties, concerns and 'to-do' lists to God and learn to rest in him.
Gather
Use this prayer as you begin your time of worship together. Nominate a leader or all join in together.
Father God,
we come to you to find rest today.
Help us to be ready to learn from you.
Amen.
Read
Share the Bible story using the idea below to help you explore it together.
Bible story
Open the Bible at Matthew 11.16-19,25-30: Jesus reassures us that no matter how busy life is, if we ask him, he will share our burdens and give us rest.
Shopping
Explain that this story happens in a marketplace. Encourage everyone to help pack some shopping, e.g. fruit, vegetables, bread and tinned food into a large rucksack. Put on the rucksack and then read the story as you walk around the room. When Jesus asks the crowd to come to him, take off your rucksack. Finish by showing everyone a picture of a yoke and talking about what it was.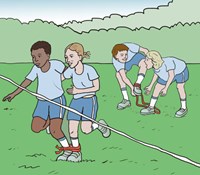 Jesus was speaking to the crowd. 'What are you like? You are like children playing wedding and funeral games. You sit and watch and shout to each other, "We played the flute and you did not dance." "We were sad and wept and you did not cry with us."
'John the Baptist came,' Jesus said to them. 'He did not go around eating too much or drinking. And what did people say? They said, "He has a demon in him!" Then I came along, eating and drinking and what did they say?
They said, "That man eats too much! He drinks too much! He is a friend of tax collectors and even sinners!'' But God's wisdom is proved by its results.'
Jesus started to pray, 'Thank you, Father, Lord of heaven and earth. You have hidden these things from the wise and the clever and revealed them to children. This is what you want. My Father has given me everything. Only he truly knows the Son. And only the Son truly knows the Father. But the Son wants to tell others about the Father too.'
He said to the crowd, 'Come to me, anyone who is tired and carrying a heavy load, and I will give you rest.' Then he looked at the people around him and said, 'Take the yoke I give you and learn from me. I am gentle – my yoke is easy and the load I give you is not too heavy. You will find rest for your souls.'
Glossary
demon also described as an evil spirit; spiritual forces that trouble people – sometimes this might be interpreted as mental illness;
sinners people who are not living life as God intends;
yoke a curved piece of wood put across the neck of an animal pulling a plough or cart, and so a burden to be carried.

Faith at home week 6 22/6/20 Resilience week 7 29/6/20 Kindness
Click on the icon's below for resilience
Please click on the heartsmart logo to be directed to their website for resources.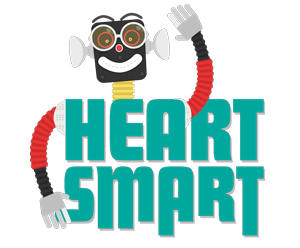 Files to Download
Update Required
To play the media you will need to either update your browser to a recent version or update your
Flash plugin
.